THE BEST PHRASES TO GIVE A WATCH TO YOUR PARTNER
An expansion of time. Minutes that seem eternity. Love is a feeling that must be celebrated every day, and in the life as a couple, the anniversary is a very important and suitable date to celebrate this love. There are countless ways to celebrate this day: taking a trip, having a romantic dinner, tickets for the theater … Besides that, couples also decide to get an original gift, a symbolic detail. Dont you already know what to engrave on a watch? Are you looking for phrases to give your partner a watch?
You've come to the right place! Here you can find many dedications to include on a watch. Don't miss them! Phrases, when you give a watch, are an important part. If you are looking for inscriptions for watches or nice phrases to give a watch, keep on reading!
Many years ago, it was common among lovers to engrave their initials in the bark of the trees to seal their love. In many cases, this engraving included a heart or a heart with an arrow. This act was utterly romantic, since the tree healed the inscription and it stayed engraved forever. Today we are going to talk about anniversary gifts and nice phrases to personalize them. You can see our wooden watches and customize them in the wooden watches section. You just have to choose the watch you like the most and put whatever you want in the configurator.
In Woodenson we think that to innovate, sometimes, you have to go back to the past. That's why we created custom bamboo wooden watches: on each of them you can engrave the phrase, word or drawing you want to give your partner as a sign of your love. If you are looking for original phrases to engrave on a watch, this is the ideal place. Below we will show you nice phrases to engrave on a watch. If you are not looking for phrases to give your partner a watch, but what you are looking for are phrases dedicated to your father or your mother, we have also contemplated it.
HOW CAN I CUSTOMIZE IT?
Some girls wonder, where can I find phrases to give my boyfriend a watch? Here we give you some ideas. It's very simple. You only have to select the watch you like the most and, once there, press the "I want to customize it" button. You'll find options to customize the back cover, the front sphere or both. If you are considering to deliver an engagement watch, here you can find many ideas that will come in handy.
After so much time customizing watches we have realized that there are some phrases that are repeated again and again. For this reason we have collected them and prepared a list with the best phrases to include on a watch for your partner. These original handmade gifts for men won't leave him indifferent. We hope you'll be inspired and you'll love them. You will also find ideas if you want to engrave poems of the watch. There is another interesting option if you plan to make a gift and it is our watches for couples: each of you has the same or a complementary dedication. These short phrases to engrave on a watch will also serve as phrases for an engagement watch. Choose from this list of some of the best phrases to give your partner a watch.

Choose one of the best phrases to give a watch to your couple
I'd let go the world to hold hands with you. One of the most requested romantic phrases to give a watch. It serves to demonstrate that love is a bet that is worth opting to. It is a great phrase if you are looking for a Valentine's day gift, for example. In the image, the phrase is made on a Deva watch, although it can be done on any of our watches.
I'd say yes a million times. The perfect gift for a perfect hand. The response to a request, but not just any response, but a shocking one that comes straight from within the heart. In the image, you can see it engraved on an articulated wooden watch, model Hikari. A good way to make original gifts on your own way.
If for example, you came at four o'clock in the afternoon then at three o'clock I shall be happy. Quotes from the all-time favourite The Little Prince, are always a success. In this case, this phrase speaks of the need for contact and the excitement due to the proximity of someone's presence. A guaranteed success if it's engraved on a Bokushi gray metal and wooden watch.
Distance only scares those who don't believe in true love. A watch to give your boyfriend that will palliate the pain of farewells or to make shorter the time and space that separates us from the person we want to be with. In the image, we can see it on a Deva watch.
Live every moment, smile every day, enjoy every second, love every hour. A lively message, a good phrase for a watch that always works and brightens anyone's day. In this picture you can see it in a Kurai sandalwood watch.
If I had to start my life again, I'd try to find you much earlier … A quote from Saint-Exupéry's famous book that talks about the happiness of finding love and the importance of time. In this case, it is made on a Woodenson model watch.
I wish some nights lasted forever. Something must have happened that night, something that remains between you and this watch. An especially fun and visual design, embodied in the back plate of a Sasanoyo bamboo wooden watch. One of the best love phrases to engrave on a watch.
You were, you are and you'll always be my most beautiful chance. This phrase encompasses the past, the present and the future of a relationship and embodies it in a material as noble as the zebrawood of the Bluebird watch. A whole love story written in just one sentence.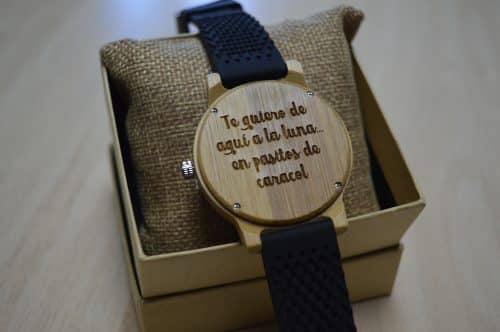 I love you from here to the moon … in little snail steps. With this phrase they wanted to capture in a profound way that what is shown with small details might, however, last an eternity. Here you have a great phrase of love to give as a gift in a black Cockney model.
Meaning of giving a watch to a man
We can choose from limitless options when making a gift. We offer you hundreds of things that we think you might like or that, at least, we like. Give something simple or complicate something else. Something simple but special.
When we decide to give a watch we look at several of its characteristics: shape, size, ergonomics, design, quality, brand …
But in Woodenson we want to go further, we give a different meaning, unique, special and original to the simple act of giving a watch. You do not give a watch to anyone, you give it to someone important and special to you, to someone who values ​​the time and money invested in that gift.
Because what does it mean to give a watch? Giving a watch is giving time and emotions. It means giving a memory and a way to create something forever.
That's why we made possible to add that personal touch that a good watch may lack. We make you give away time, feelings, memories and a life together in the best possible way: personalizing your watch.
Meaning of giving a watch
If you want to know what it means to give a man a watch, you should keep on reading. Much has been said about its meaning. Without getting lost in many details, we can say that the meaning of giving a man a watch evokes one or some of the following feelings:
Proximity:

since that person, wearing the watch you gave him or her, will always have you close to them through the watch, and look at it frequently.

Beauty:

we look for an eye-pleasing watch we want to identify with.

Confidence:

watches help us to get organized and we trust what they say.

Elegance:

it can give an elegant touch and a certain distinction.

Belonging:

there is a symbolism in the bracelet concept, something that clings to the person.
That phrase that represents you or that motive you two share faithfully it's a step away from giving it as a valuable and representative accessory.
Because we want to be part of your life and your favorite people's, and we want them to feel glad to have you by their side.
Watches on which a pre design is good. I want to see phrases on watches!
On some of our watches the engraving on wood is especially good for the different qualities of the material. We invite you to enter the file of any of them and click on I WANT TO CUSTOMIZE / BACK COVER / PRE DESIGNS. There you can see some pre-designed phrases that usually give an excellent result.
If you haven't already decided, here you have three of the most popular watches chosen by people to decorate. We're sure you'll love them.
Poem to include when giving a watch
There are people who look for poems to accompany the gift of a watch. The truth is that choosing a good poem watch can be the perfect complement for the gift to be perfect. Since you have asked us once, we are offering you some help. Here go some tips:
The poem should be brief:

If you go long, the engraving could look a bit heavy and somewhat tacky, so that's not recommended. Our recommendation is to choose eight verses as maximum or, if you get very excited, maybe twelve.

Try to give it a personal touch: You can get inspired by other people's texts, but it wouldn't hurt to add a personal touch of yours, that makes the poem intimate.
The Haikus work well:

Haikus are three-verses poems in which a very light sensation is transmitted. So you can give the effect of inspiration, rather than copy.

Do not sign it if it is not yours.They'll catch you: there is always someone who knows everything and could give you a hard time.
If you are still thinking about how to give a watch in an original way and you wonder "how to give my boyfriend a watch", we recommend here some authors who have good poems about time, watches and love. There are very good quotes to engrave on a watch. We hope you are served: Bécquer, Neruda, Octavio Paz, Oriental Haikus, Jorge Luis Borges or Mario Benedetti. Surely one of these serves you. If you're not convinced or if you're in a hurry, here's a snippet of our brand manifesto for inspiration. You have permission to shoot him.
We are the resistance to the advances of a technology that tries to dehumanize us. We are essence. We mark the time that we have left. We are the time we have left. We can master technology with beauty, remembering what we are, aware that everything we do, even what threatens us, is part of the same nature, and therefore part of who we are.Wood is the skin of nature. Our second skin.